Reopening Club
Dear member,
I hope this finds you well and eager to get back to the range.
As a result of HMG's proposal to slacken the current C-19 lockdown restrictions I'm pleased to announce a resumption of activities at St Giles' from 12th April.
Range visiting will be under the same conditions as last time to comply with government and and insurance guidelines, see below.
I'm looking into the necessity, or otherwise, of having to complete a waiver form for every visit, this could change but Duty Officers will be briefed and you'll be updated on your first visit.
Have a pleasant Easter and we look forward to welcoming everyone back to what I hope will be a big step towards our normal regime.
Take care.
Regards,
Robb Harrison.
(Hon, Sec,)
>>
>> To comply with HMG's Covid-19 guidelines the following rules are being introduced:
>>
>> 1. All attendances must be pre-booked. Such bookings to be made no more than 3 days in advance.
>>
>> 2. Details will be limited to a maximum of 3 shooters for a period of 30 minutes which includes set/pack up. The 30m may change, at the DO's discretion, depending on circumstances.
>>
>> 3. You must wait outside until shooters from the previous detail have left the building.
>>
>> 4. No one in the clubroom except the DO plus assistant where required.
>>
>> 5. You must complete a Covid-19 waiver form for each visit to the range.
>>
>> 6. You will be given a new attendance record sheet to be retained and brought with you for each visit.
>>
>> 7. Social distancing guidelines must be followed at all times whilst in the building and face protection is mandatory.
>>
>> 8. Shooters are responsible for cleaning their firing point at the start and end of their detail, includes clearing of all spent cartridge cases.
>>
>> 9. Cleaning materials and hand sanitisers will be provided.
>>
>> 10. Ammunition and targets will be available for purchase but cash sales must be the correct amount as no change will be handled by the DO's.
>>
>> 11, No food or drinks will be allowed in the building.
>>
>> 12. No rubbish to be left in the building, please take your used targets away with you.
>>
>> I'm afraid none of the above does anything for the social side of the club activities but I hope these don't put you off a return to shooting.
>>
>> To book a detail you need to send a text to the DO responsible for the session who will text back with confirmation.
Welcome to our site, please look around and learn a little about our Club and the sport of Target Shooting.
Our shooting range is in Durham city.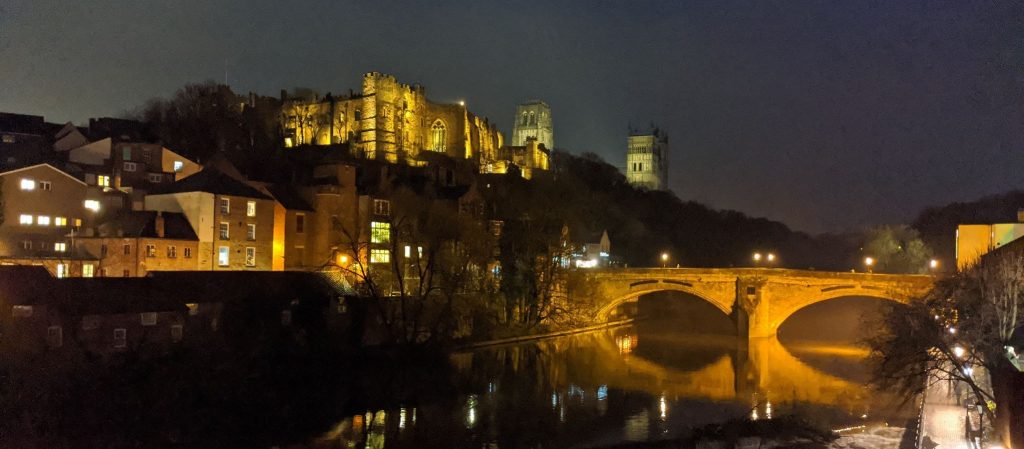 We are a friendly bunch of people shooting a mixture of Small-bore Rifle, Match Air Pistol/Rifle and Sporting Rifle disciplines.
Having approximately 100 members, we meet weekday evenings and Sunday mornings.
Members are encouraged to participate in various Postal and Club competitions but this is not compulsory!
The range has full disabled access.
The Club is affiliated to the National Small-bore Rifle Association and the Durham County Small-bore Rifle Association.
Mission Statement.
To bring together shooters of all disciplines, ability and interests, to compete, practice and share their enthusiasm for firearms in an encouraging, respectful and safe fellowship.
Aims.
To encourage and facilitate the ongoing growth and success of all shooting sports.
To encourage new members of all ages, sexes, races,religions and abilities to join the club.
To actively seek the involvement of under 18 year old minors in the sport and to teach them the discipline required to be permitted to handle and own firearms.
To raise the profile of all shooting disciplines within our society.
To support and defend each member's rights and privileges by any legitimate means.
History
The St Giles Yarners Rifle & Pistol Club was formed by members of St Giles Church, Gilesgate, Durham City as a miniature rifle club in 1912. Following the Boer War, which had demonstrated a lack of marksmanship, there was a government initiative to encourage skill in the use of rifles by providing instruction and practice in small-bore rifle shooting.
The club's original range was in the Sands area of Durham City but later removed to the grounds of Durham Prison.
In the early 1960's the current location at Hollow Drift, Green Lane , Old Elvet, Durham City became available. Following a devastating fire in 1992, which destroyed the old wooden building a new purpose built brick clubhouse was opened in 1994.